PIONEER DJ Presenta su nuevo reproductor multimedia, el muy esperado CDJ-3000.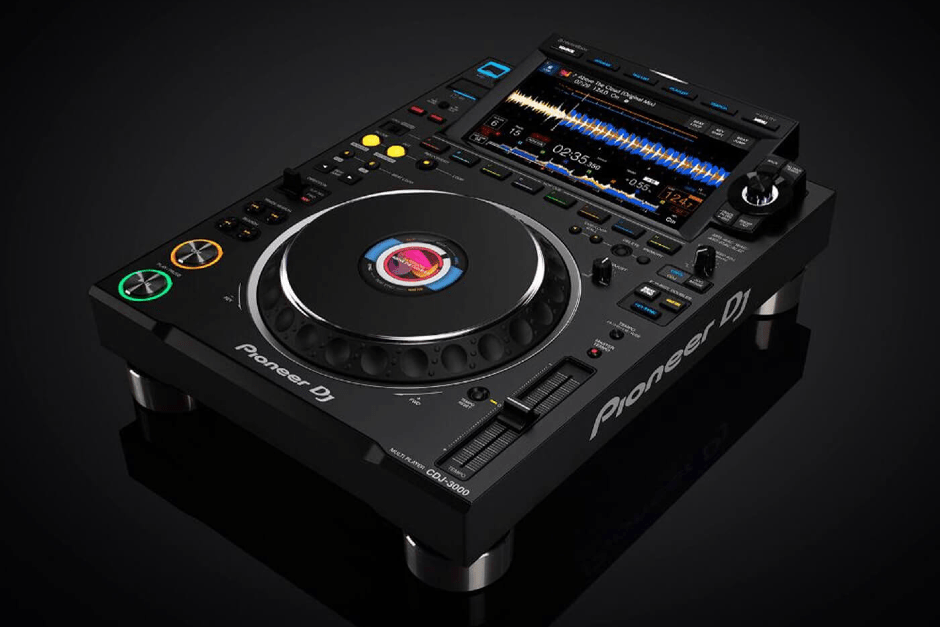 La gigante japonesa presentó hoy el muy esperado sustituto de su reproductor CDJ-2000nxs; llega el totalmente nuevo CDJ-3000 con algunas "mejoras" y nuevas funciones algunas de ellas muy esperadas por los usuarios.
Entre las principales funciones se encuentran las siguientes: (En inglés)
– Advanced MPU
– Pro DJ Link with Gigabit Ethernet
– Better screen visibility
– Tougher components
– 9-inch, high-resolution touch screen with never-seen-before features
– Touch Preview
– Touch Cue
– Stacked Waveform
– Support for 3Band Waveform
– Key Sync and Key Shift
– Our smoothest-ever jog wheel
– Eight Hot Cue buttons
– Dedicated Beat Jump buttons
– Advanced Auto Beat Loop section
CDJ-3000 specifications
Playable media:
SD memory card
USB device
PC/Mac
iPhone
Playable files:
WAV, AIFF, FLAC, Apple Lossless (Sampling rate: 44.1/48/88.2/96 kHz, Bit depth: 16/24 bit)
MP3 (Sampling rate: 44.1/48 kHz, Bit depth: 16 bit)
AAC (Sampling rate: 44.1/48 kHz, Bit depth: 16 bit)
USB storage support
FAT16
FAT32
HFS+
Software
rekordbox
Frequency Response
4 Hz to 40 kHz
S/N Ratio
115 dB or more
Total Harmonic Distortion
0.0018% or less
Audio output voltage
2.0 Vrms
Audio output terminal
Audio Out (RCA) x 1
Digital Out (Coaxial) x 1
USB ports
USB (Type A) x 1
USB (Type B) x 1
Other ports
LAN (1000Base-T) x 1
Audio output voltage
2.0 Vrms
Power requirements
AC 100-240 V 50/60 Hz
Power consumption
40 W
Maximum Dimensions
(W x D x H)
329 x 453 x 118 mm
12.95″ x 17.83″ x 4.65″
Weight
5.5 kg / 12.1 lb
Accessories
Power cord (V-lock*1)
Digital audio cable
Analog audio cable
LAN cable
Quick Start Guide
Precautions for Use
Pero no todo es color de rosa para Pioneer, porque las críticas y quejas no se han hecho esperar. Circula por las redes esta imagen que presenta una lista de quejas: (En inglés)
Uffff…
Como ya todos sabemos Pioneer sigue siendo el estandar en todos los clubes y "setup's" de Dj's a nivel global, y esto se debe a su indudable calidad y por qué no, a la delicadeza con que desarrollan sus productos… hasta ahí todo bien, pero, hay una marca que desde hace unos años le está pisando los talones y me refiero directamente a DENON, si! DENON! Algo que hace unos años era inpensable se está convirtiendo en realidad. DENON Presentó a principios de año su reproductor DENON DJ SC-6000 lo que creó un revuelo en la industria ya que posée muchas de las funciones más deseadas por cualquier dj.
Pero volviendo a Pioneer, que es de lo que trata esta Noticia, aqui te dejo el video de presentación:
Y por si quieres ver de lo que te hablaba sobre DENON, aqui su presentación:
Cual es mejor? Cada quien que decida 😉
---